Yayoi Kusama and Louis Vuitton
Japanese artist Yayoi Kusama was born in 1929 in Matsumoto, Japan. Kusama is one of the most famous contemporary artists. She is called "the queen of dots." From childhood, sticky thoughts that did not give Kusama a rest have found expression in her work. Her "authorial" dots create a chaotic mood, and they make the viewer appear in a completely different reality. Kusama likes to guide the viewer to her psychedelic imagery as if they are from another planet. Besides the dots, Kusama is also famous for her "Infinity mirrored room" installation. This installation gives the feeling of the infinity of the universe. The 90-year-old artist lives and creates in a psychiatric hospital in Tokyo by her own will. Her studio is located near the mental hospital. Kusama's famous "White N28" canvas was sold for 7.3 million dollars in 2014. From that moment on, she was considered the most expensive female artist in the world.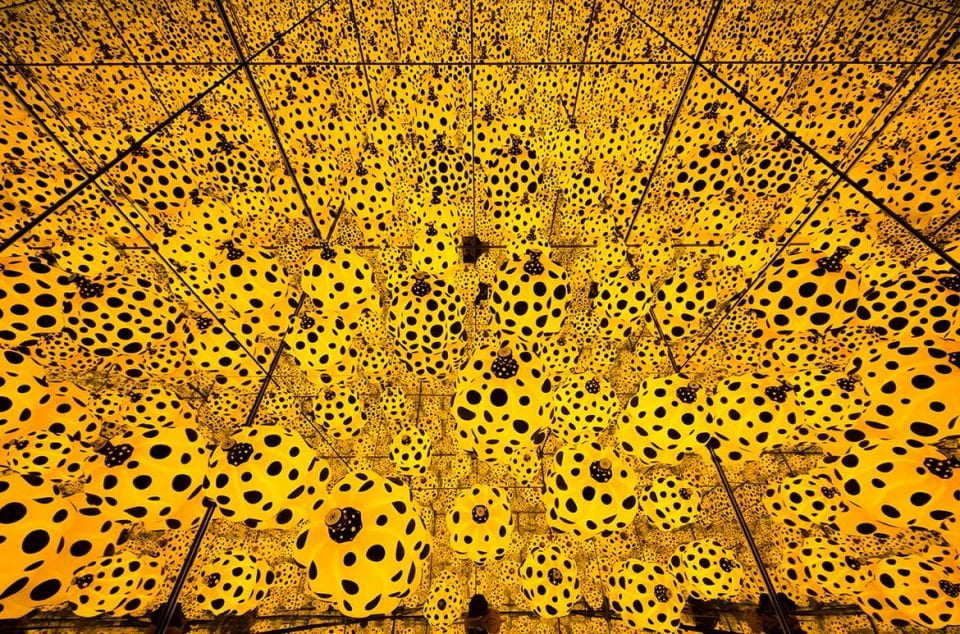 In 2012, Yayoi Kusama collaborated with Louis Vuitton famous fashion house. A new collection was created in which Kusama's dots played their unique part. The collaboration was offered by Marc Jacobs, who is the art director of Louis Vuitton and is an American fashion designer.
This is perhaps one of the most striking examples of collaboration between art and fashion. Similar partnerships with Louis Vuitton began in the 1980s. However, the brightest partnerships and the extraordinary breakthrough of the Louis Vuitton brand happened under the leadership of Marc Jacobs. By being a great lover of experiments, Jacobs has come up with many interesting solutions and collaborated with various artists. He managed to combine traditional and classic with the rebellion of kitsch and punk culture, which gave Louis Vuitton brand deeper meaning.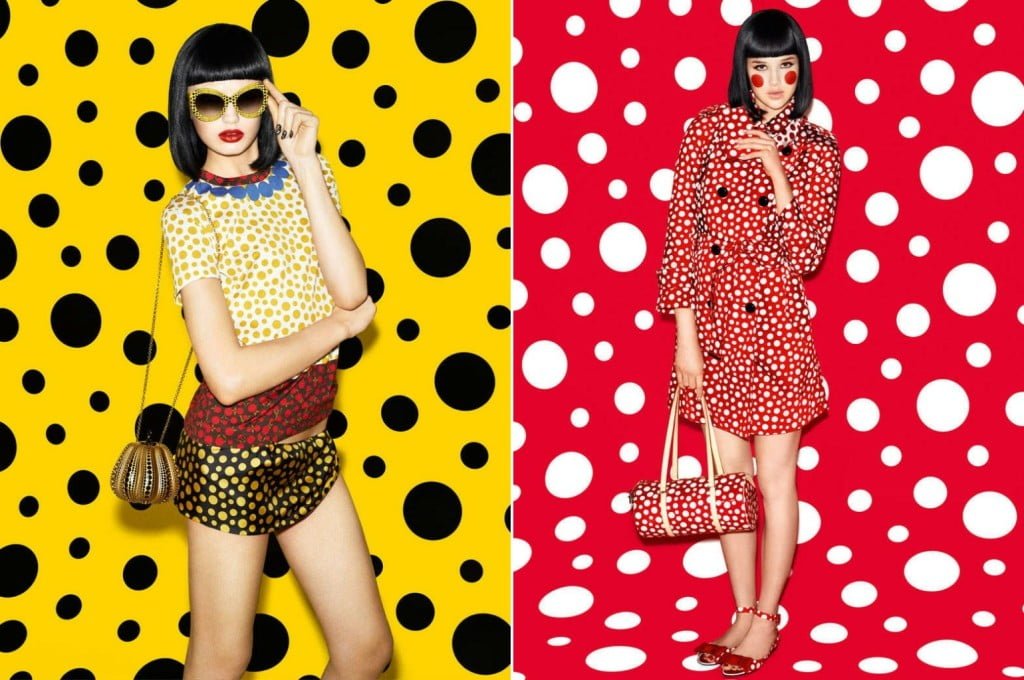 Even for Jacob, the collaboration with Kusama seemed to be weird and extremely brave step. By appearing in Kusama's arthouse in 2006, Jacobs was amazed by the artist's unique art. But that wasn't all. Jacob's heart was fully occupied after Kusama brought a Louis Vuitton bag fully covered with dots. That handbag set the start of the future successful collaboration.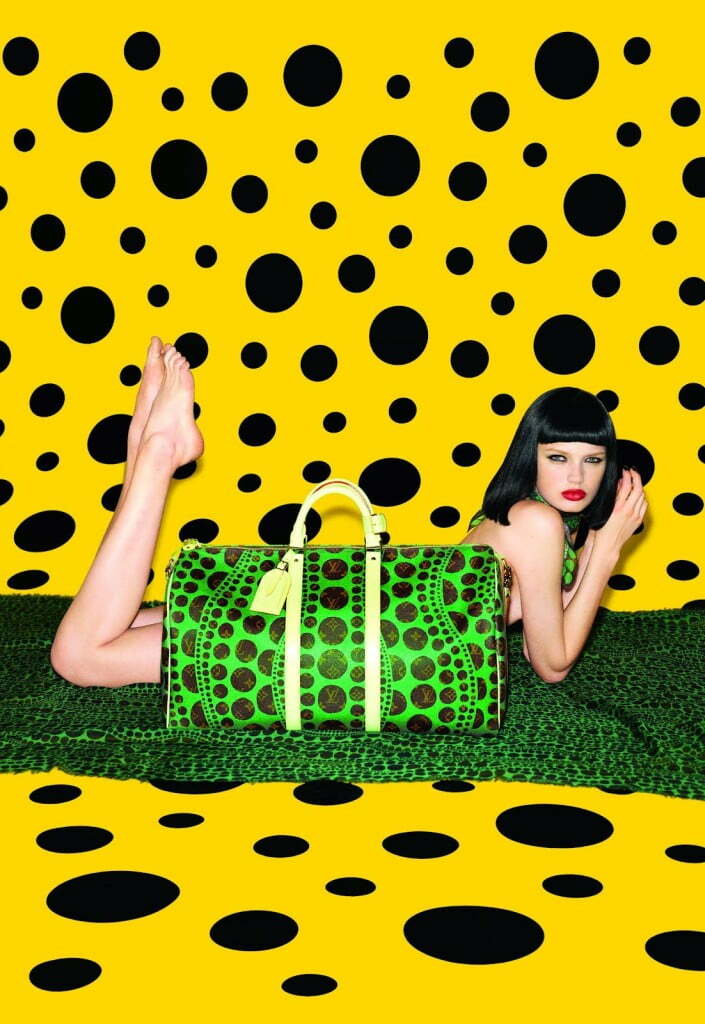 Marc Jacobs says, "When I look at her works of different layers of self-expression, I feel simplicity, passion, and naivety. Like any great artist, she has created a whole world which she shares with us, and we cannot help but feel it. I admire, love, and feel Kusama and her art." Thus, Kusama's and Louis Vuitton teams together created a limited colorful collection of bags, shoes, clothing, and accessories covered with Kusama's famous psychedelic dots. According to Kusama, "Infinite love" is the main message of the collection. In addition to the collection, the pavilion that Kusama created explicitly for displaying this collection is also fascinating. The booth with a "pumpkin" interior for the Selfridges department store seemed to be one of her installations where it was possible to meet fashionable bags covered with Kusama's famous dots as well as Kusama's realistic mannequin. It seems that Kusama is always present in her pavilions. In the future, the design of display windows also became Kusama's passion. By using four main motives, which are waves, dots, mirrors, and forever blossomed flowers, Kusama created numerous unique shop windows that are impossible to confuse with someone else's designed shop window.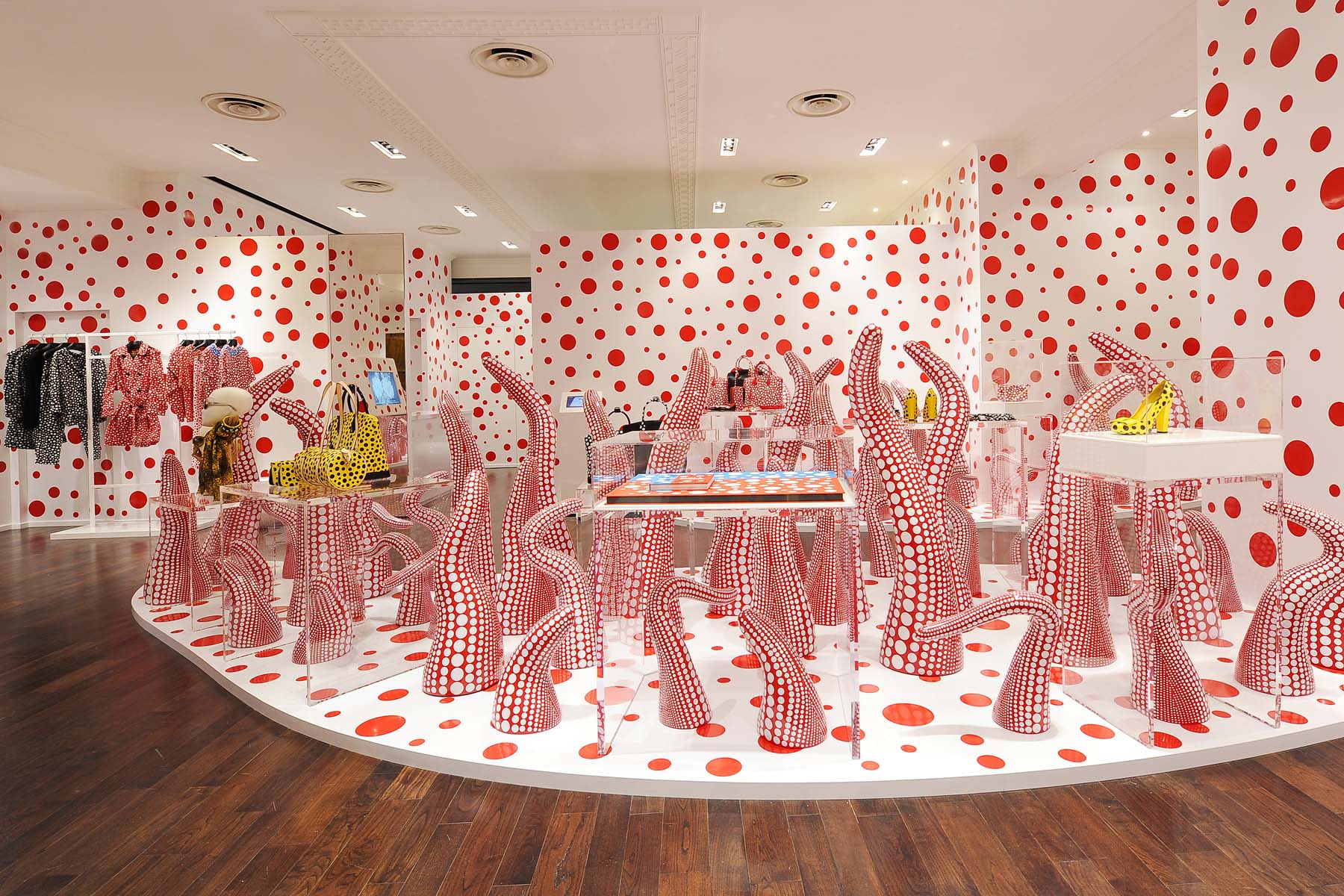 Thus, this exceptional woman, who combined her problems with art and amazed everyone with her newly created world, also conquered the fashion world and was able to do the same.